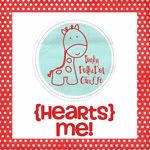 I'm so excited to tell you that today I'm doing a giveaway on
The Funky Polkadot Giraffe!!!
You already know that I love this blog because I got the awesome rainbow jello idea that I used for Dalton's 1st B-day party from her.
Plus, she makes cupcakes.
And I L.O.V.E. trying out new cupcake ideas.
So...make sure to head over and enter the giveaway!!!l
Just click HERE.